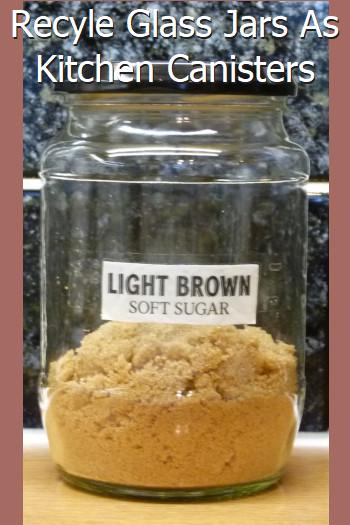 If you don't have a budget to purchase kitchen canisters you can still create some really attractive kitchen canisters by reusing empty glass jars left over from other food stuffs.
I was cleaning out my fridge and storage areas in the kitchen the other day and noticed that some of the jars were quite big. Here in the UK things like pickled beetroot and coffee come in big glass containers. Rather than chucking it out into our recycling box, I decided to reuse it for my store of brown sugar and ground almonds. I use a lot of glass containers for storage and figured it would match with those I had bought.
Is it safe to Reuse Glass Jars?
Glass is a wonderful material for storing food as it is very inert and does not react with foodstuffs. After a good hot wash glass containers can quite safely be reused to store more food items. Depending on the type of lids used on them, you might not get a completely air tight seal. I find that most things we store do not hang around long enough for me to be bothered by air tight seals for long term storage.
What I am looking for is a container I can use safely, that matches with what I have there already. It is difficult to organize food stuffs when you keep the packets that they come in – even when you fold the top over and put a peg on it! Some of them don't stay balanced or sit nicely on the shelving either.
Glass Containers Come in Many Sizes
What is good about recycling glass to make your own kitchen canisters is that they come in many varying sizes. Sometimes you don't want a huge jar so keep back some of those smaller containers like jam and sauce jars. When I am doing my weekly shop I often find myself looking at products in glass bottles which have interesting shapes. If there is not a big difference in price I will often go for the product where I can reuse the container in some way or another.
Labelling Reused Containers
Sometimes I will cut out the pertinent details (instructions for use, use by dates etc )from the foodstuff and place it inside the container or I might stick it to the outside of the jar in the form of a label.
You could also purchase labels to stick on them or even print them yourself in an attractive font. A quick search online reveals that you can get them in rolls that are blank so you can add your own wording, and even preprinted clear glossy ones that you just stick on.
Get Crafty with Decorations
If you are a crafty type and have the time, then there are loads of ways to decorate your glass containers to give them even more of a lift. I am not really into painting things so I tend to do the quick and easy methods of washing and labelling. If you'd like to add colour with paint then watch the videos below to get some inspiration.
The one below uses decoupage to decorate the jars.
Hopefully this post has given you some ideas for ways you can repurpose those glass jars for use in the kitchen as containers.