If you're looking to invest in some new kitchen storage canisters and are overwhelmed at the huge selection available to buy online, then you have come to the right place.
It's difficult to make a decision when you see website after website packed with images of beautiful food containers … but which one is best for you?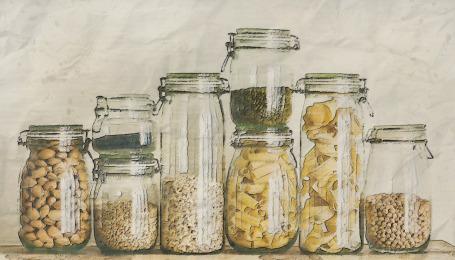 Just Kitchen Canisters aims to help you make your choice by first sharing some useful tips on things you should consider when choosing the best kitchen storage containers for your situation. We have then categorized the large selection of canisters into sections where hopefully you'll be able to make a more informed choice.
To get started, first read through the tips we have put together and then based on those criteria find the category that pertains to your situation.
Benefits of Kitchen Storage Containers
Before deciding on which product to buy it is a good idea to remind yourself of the benefits and reasons why we use these containers in the first place. Have you ever opened your kitchen store cupboard and become frustrated because you can't find that one ingredient you need to use? Sometimes what happens is that you have so many packets and tins stacked up at the back of the shelf that it's hard to see what you have.
Containers keep kitchen countertops and cupboards tidy and organized
they improve the look of the kitchen
some foods last longer in airtight containers & away from pests
storage canisters and containers arranged correctly makes it easier to find what you need and see what you have left in your cupboards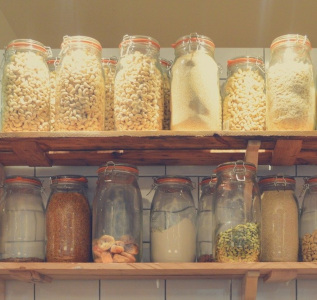 Things to Consider Before You Buy
Display Canisters on Counter Top or In Pantry / Cupboard?
It's worth thinking about whether the canisters you intend buying are going to be displayed on your kitchen counter tops or will they be stored in the pantry or on an shelf in one of the cupboards?
If they're to be on view on the counter tops then you'll need to take into account the kind of kitchen you have – is it a modern one or farmhouse vintage type? You will want them to blend in so colour needs to be considered too.
If on the other hand you plan to store them in a pantry or shelf their appearance is not so much a factor. By this I mean you can consider their function more than the appearance as they will not be continually on display.
The issue of whether canisters should be on the kitchen work tops or not has long been a controversial one …. some of us do not have spacious large kitchens and therefore it is often a necessity to have them there. The important thing to bear in mind is to choose ones that match your kitchen environment if they are out on view.
Function & Size is Important
Once you have decided on where they are going, you need to think about what you want to use the container for. Following on from that size is the next consideration.
For example, if you are looking to buy a flour storage bin you will need to think about the size jar you need. How much flour do you normally store at any one time?
What kind of food is going to be stored in the container is an important consideration. Not only will it affect the size of container but also sometimes the kind of material that the product can be made from.
Material Used to Make Food Storage Container
For health and safety reasons it is best to avoid breakable containers made from glass if you have young children in your home – especially if they're on view. Little ones can be incredibly clever at finding ways to reach up and send them flying to the floor! If this is your situation consider choosing a material like brushed stainless steel in your kitchen. It's an unbreakable material and does come in some bright colours too.
Some materials lend themselves to fitting better into a certain style of kitchen – so some of the home decor experts say. I have read that ceramic kitchen storage containers go well with vintage or farmhouse style kitchen.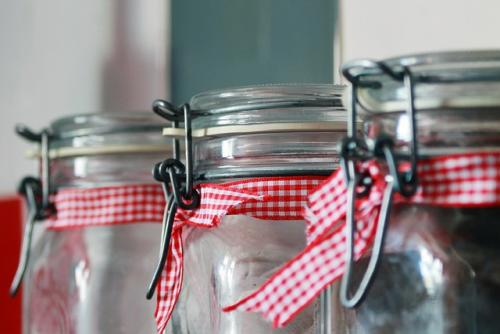 Glass storage jars are useful for storing many different types of foodstuffs. They have the advantage of being inert and so do not affect the food in them. Glass is easy to wash and recyclable after you have finished with them. Glass is easily coloured so there is the option of choosing a matching colour to blend with your kitchen scheme.
The range of plastic food storage containers is huge. They come in many colours so matching with your kitchen is easier. Cleaning is easy. Just make sure that they are labelled BPA free so there are no health risks. When choosing plastic to store foods you need to be aware that sometimes the food can be absorbed into the material and leave a smell even after it has been washed. Most dry food storage in plastic canisters is fine though.
Rectangular or Round Containers?
If you are short on space in the kitchen you might consider selecting rectangular containers and these can maximize that space. Stackable food storage containers are a good choice when you're really pushed for space.
Budget Considerations
The cost of kitchen canisters varies a great deal. Keep in mind what you are prepared to spend. You are sure to find something that fits your budget.
So there you have some things to think about before you make your purchase.
Where is the container going, out of view or on show?

What style is your kitchen – traditional craftsman, contemporary, vintage, farmhouse, industrial-themed, rustic, shabby chic…?

What is the colour scheme?

What will the storage jars be used for? What do you plan to use them for?

What size container will you need and how many?

What material is best for the food to be stored in them and suits the kitchen style?

The shape of containers – round or rectangular? Space limited in the storage area or not?

What is the budget?