*This post may contain affiliate links for which I earn commissions.*



If you're short of horizontal space in your kitchen you might be thinking of using stackable tea coffee and sugar jars to store your beverages either on the kitchen worktops or inside a unit on the shelf. Sometimes space is limited and if you want to still use storage containers then this selection may give you some ideas and inspiration. These kinds of containers need not be boring as you will see from those I have chosen to highlight here in this post.

You will find that they are available in a wide array of materials such as metal, glass and ceramics so you can still avoid the plastic ones which damage our environment.

The colour choice is varied too - pastel colours, white and cream all the way through to distinct vibrant colours like navy.

Study the Lids

The best stacking beverage containers are the ones with lids that have an outer ridge into which the base of the next container can slip snugly. An example of this type of lid is shown in the product shown below. This type of arrangement means that you can stack 3 containers vertically and only be using up the horizontal space that the bottom container occupies.



There are other containers which have smooth lids onto which you could place another jar but generally, it would not be as stable as the ones with a ridge on the lids.
Here are 10 products that fit the description for these kinds of storage containers.

Space Saving Stackable Tea Coffee Sugar Jars in White



Stackable Tea Coffee Sugar Jars in Black Stainless Steel



Stackable Jars for Tea Coffee Sugar Storage in Range Colours



Ceramic Stackable Tea Coffee Sugar Jars in White



Glass Stackable Tea Coffee Sugar Jars with Wood Lids



Blue Ceramic Stackable Tea Coffee Sugar Containers Wooden Lids



Stackable Space Saving Glass Jars for Tea Coffee Sugar Storage



Stackable Tea Coffee Sugar Jars in Glass with Stainless Steel Lids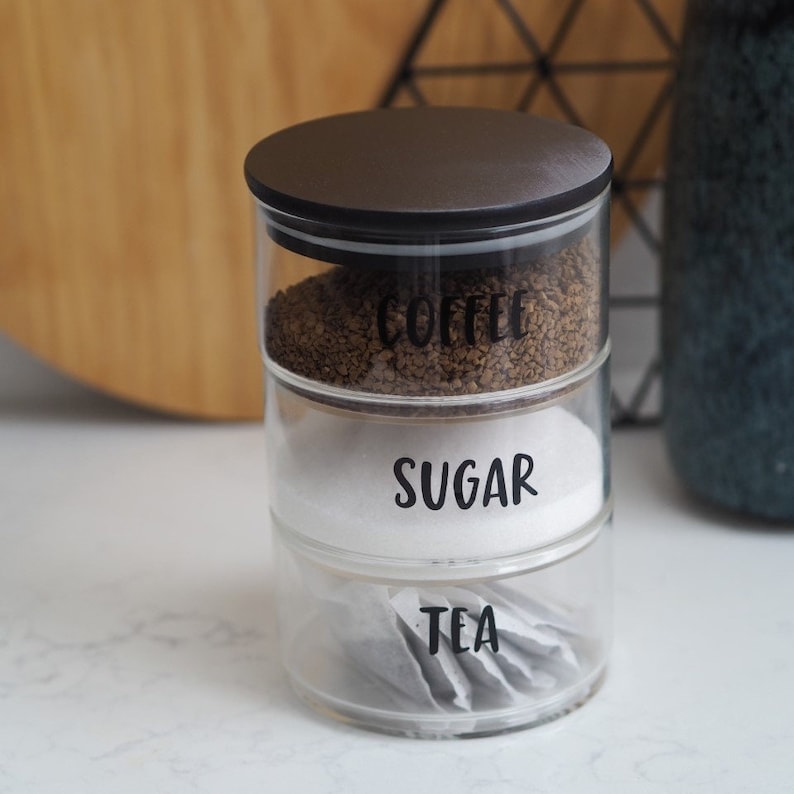 3 Tier Stackable Tea Coffee Sugar Jars in BPA Glass



Multicoloured Ceramic Stacking Tea Coffee Sugar Jars with Labels